Your Excel Automation Machine
2 hours on-demand video | 12 articles | 16 downloadable resources | Full lifetime access | Certificate of Completion
£48
LIFETIME ACCESS TO THE COURSE
Learn to use VBA, Macros and Automation for Excel 2010, Excel 2013, Excel 2016
Welcome to Your Excel VBA Automation Machine, a powerful course to fast track your knowledge of macros and automation in Excel.
I'm guessing you're perhaps a intermediate or advanced Excel user, looking to improve your Excel skills, to further your career, to become better & faster at Excel, or to impress your boss.
VBA code can seem intimidating and technical, it's a whole new programming language to learn - not dissimilar to learning to speak a foreign language. There's lots of new menus, commands and methods to learn.
The good news is, you don't need to know every VBA command to automate most business tasks. I've been consulting & teaching Excel & data analytics in the UK financial services industry for over 15 years, and have curated an approach to VBA that will enable you to perform 99% of any automation challenge that you're ever likely to come across in your career.
At the end of this course, you'll be confident and proficient about automating tasks and creating calculators and tools in Excel using macros and VBA
This course works through different elements of VBA, one at a time. Each lesson has a practical, real life example that we work through, and that you can download afterwards.
There are downloadable challenges that you can work through in your own time, and there's a quiz at the end of the course to test your knowledge.
You also get access to my private facebook community, where you can ask me any Excel question and get a personal answer (worth far in excess of the price of this course!)
There's several free preview lessons below, so that you can get started, and I look forward to seeing you on the course!
Sample Video - Copy and Pasting in VBA
Hi, I'm Martyn. I created my courses to help you to get better at Excel and to get your next promotion, job or raise. My courses are a little different to most - you'll learn the most powerful functionality in Excel through in depth online courses, ongoing learning through case studies and exercises, as well as a fantastic online student community to share your experiences of breaking through the career ladder with better skills..
If you want to stop drifting and start learning Excel, you are in the right place. Welcome!
Frequently Asked Questions
What is DataMinded?
DataMinded is an online Excel training provider for individuals and businesses that helps students become expert Excel users as quickly as possible. We are based in Edinburgh but you can take a course from the comfort of your home or office.
What versions of Excel can I use on this DataMinded course?
The course is recorded in Excel 2016 for Windows, also known as Excel 365. Any Windows version of Excel from 2007 onwards is suitable for the course, although buttons and menus may look slightly different. Excel for Mac 2013 onwards is suitable for the course, although the interface does look different, we note where specific functionality is not available. The course is not suitable for Excel for Mac 2011 or Excel for iOS, due to its limited functionality. The course does not cover other spreadsheet packages such as OpenOffice, or Numbers for Mac.
What difficulty level is DataMinded?
This is an intermediate to advanced Excel course. You should have a good working knowledge of the basics of Excel before you get started.
How long is the course?
The course contains over 2.5 hours of HD video, downloadable Excel fact sheets, online quizzes, and practice exercises. You can also download the examples used in each lesson to try it out for yourself.
When does the Excel course start?
Thisis a self paced learning course. Start whenever you are ready, you'll never lose access to the content.
Is the Excel training course mobile friendly?
Yes, you can take any of the lessons on a smartphone, although to do the challenges, you'll want to be on a laptop or desktop.
What if Microsoft bring out a new version of Excel?
As Excel geeks ourselves, we're always on the lookout for new Excel functionality. When Microsoft release a new version we will update the course with any relevant new material.
What tactics am I going to learn that other courses don't teach?
All Excel courses will teach you how to do a VLOOKUP or how to use Pivot Tables, but DataMinded wanted to go one step further. You'll learn repeatable methods to create in depth data analysis, design great looking reports & dashboards, and be able to automate complex business processes. We believe that learning Excel is not just about what the buttons do - it's more about using those tools to methodically solve business data problems over and over again, getting your work right first time.
Can I expense this course, or have my employer pay for it?
Yes, most of our students have their course paid for by their employer, and there are significant discounts available for purchasing courses for a team.
What if I don't like the content?
We're confident you'll see a massive improvement in your Excel skills by taking the course, but if you're not happy you can get a full refund within 30 days of purchase. Just get in touch if you're experiencing any problems with the content.
How long will I have access to content?
The course includes unlimited access, and free updates.
Is this the best way to learn Excel?
Excel is one of the widest taught topics online - so we know there are countless other places you could go to study. Learning for free using tutorial websites, reading books or YouTube is fine, but it requires patience to learn by trial and error. We also know scores of colleagues and friends who have taken classroom based one day courses, and come away with a nice booklet, but no lasting ability to use Excel.
More questions?
Email us at hello@dataminded.com
People who viewed this product also viewed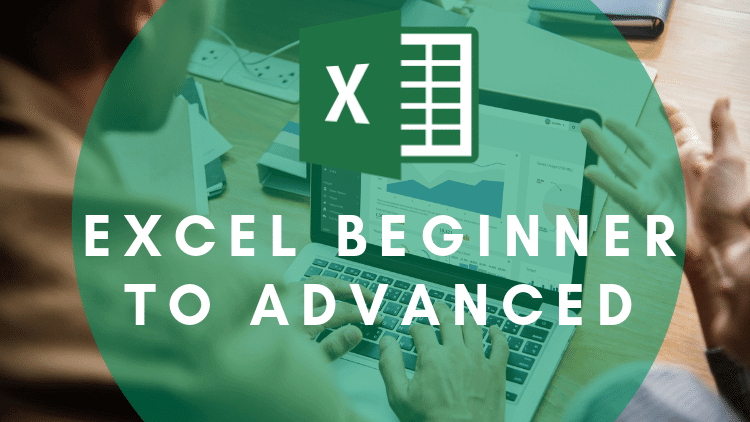 Microsoft Excel - Beginner to Advanced
Learn to become an Excel Guru with our beginner to advanced course